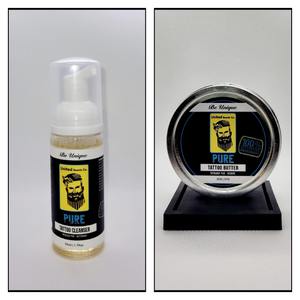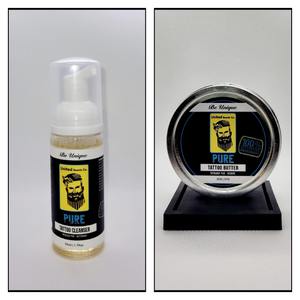 On Sale
TATTOO CARE KIT BUNDLE
PRE-TATTOO Care Kit
This package combines two of our all natural tattoo care products at a reduced price. 
You get our all natural tattoo cleanser and all natural tattoo butter. This will keep the site clean and healthy while healing. Once your tattoo is healed you will want to check out our all natural tattoo balm to keep your ink looking outstanding. 
The Cleanser:
Ideal for cleaning skin before and after a tattoo. in the days after getting a tattoo, this product works exceptionally well at cleaning the site ahead of applying United Beards Company Tattoo Butter or Balm. 
100% safe and natural ingredients
Ingredients:
- Water (Reverse Osmosis)
- Coco-glucoside
- Glycerin
- Aloe Vera Leaf Juice
- Grapefruit Seed Extract
- Vitamin B5
- Hemp Seed Oil
- Jojoba oil
The Butter:
Ideal for softening skin prior to tattoo work being done, the moisturization of the butter softens skin and  can lessen skin irritation.
Apply to skin after a new tattoo multiple times a day to assist skin in healing 
Ingredients:
- Shea Butter
- Babassu Oil
- Bees Wax
- Grape Seed Oil
- Cetyl Alcohol
- d-Alpha Tocopherol
- Rosemary Leaf Extract